Punk Rock Flea Market, Jersey Fresh Jam, other events this weekend in Trenton
AUGUST 5, 2016 - by By Thomas Regan | For NJ.com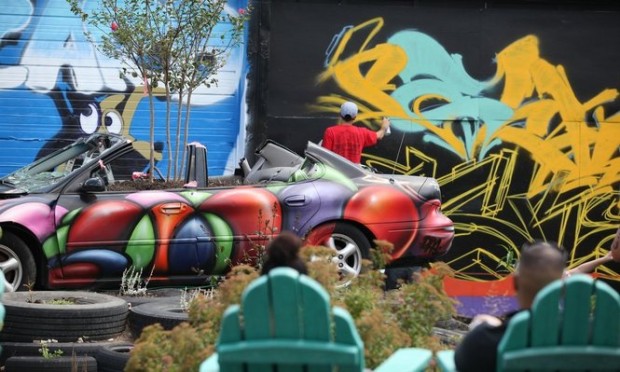 Looking for something to do this weekend? Check out these events in Trenton.
Trenton Punk Rock Flea Market — Sunday
The Trenton Punk Rock Flea Market will bring unique merchandise, from vinyl records and CDs to taxidermy and handmade jewelry, to the Historic Roebling Machine Shop.
The market, which now opens three times a year, will have food and live music to keep visitors entertained and well fed as they peruse the tables of 200 punk rock and related vendors from eight states.
The market held its first event in 2013 has grown from its comparatively modest collection of 50 vendors. The market will be open from 10 a.m. to 5 p.m.
Comedy and Jazz in Mill Hill Park — Saturday
The Comedy and Jazz in the Park event is only part of this epic weekend in Trenton because its original date was rained out. However, this Saturday, people can enjoy food, live music and comedy in Mill Hill Park from 2 to 8 p.m.
The event will feature a comedy production "Laff Out Loud" by Nina and Landy and musical performances by the Renaissance Jazz Band, Bob Smith Trio, Tipico Latin Jam Group and DJ Say Whaat!!.
Jersey Fresh Jam 2016 — Saturday
The Jersey Fresh Jam is a free celebration of Hip Hop culture. This festival, which began in 2005, features artists from all over coming to Trenton to decorate the walls of Terracycle Inc. with spray-paint masterpieces.
With live performances from emcees, bands and DJs, this event will be something Hip Hop and art enthusiasts won't want to miss.

Levitt AMP Trenton Salsa show and lessons - Saturday
A Trenton native and his salsa ensemble will perform this weekend for Levitt AMP Trenton audiences this Saturday night.
Edwin Lebron y Su Orquesta will perform on the Capital Green at the Statehouse at 7:30 p.m. There will be a salsa dance lesson at 6:30 p.m. with an instructor from "Hot Salsa Hot."
Trenton Househeads Bar B Que and Festival — Sunday
From 12 to 8 p.m., Mill Hill Park will be filled with family games, face painting, food, moon bounces, vendors and live music.
The event will have music from DJs Naeem Johnson, Venus7, Algebra and Eddie Ed. There will also be performances from Koffee the Floatress and Kia Stewart.
#flea #fleamarket #antiques #jewelry #clothing #swap #swapmeets #auto #autoparts #collection #collectible #nike

Great Article found on -
http://www.nj.com/mercer/index.ssf/2016/08/punk_rock_flea_market_to_highlight_epic_weekend_in.html